Barbanera shoes have come out of Tuscan factories to party with some of the coolest cats on the fashion scene. In this interview, frontman Sergio Guardì talks about his influences, his vision, and his values.
David Isle: I know that Barbanera is made up of two pairs of brothers - how did the pairs meet?
Sergio Guardì: Yes, we are two pairs of brothers. It's a funny story. It was destiny. Sebastiano and Filippo met on a train, by complete coincidence. Talking to each other, they discovered that Sebastiano had gotten married the same day as Filippo. After that they didn't see each other for months, but then ran into each other, again completely by coincidence, in Greece. They were staying in the same hotel, in rooms right next to each other. They became friends and developed the idea to give life to Barbanera. Through them Alessandro and I got involved. Alessandro was finishing his studies and I was returning to Italy after two years in Berlin where I was a professional musician in various bands. 

DI: Who designs the shoes? Or do you all contribute? I see some rock n' roll style in your shoes - is that your influence?
SG: Everybody contributes, but it's mostly Filippo and I. I definitely am the source of the rock n' roll in the collection - that comes from my experiences and cultural background. But the final result is a mix of tastes that are diverse but come together to form "Barbanera style."  




DI: The names of the shoe styles are also taken from musicians, authors, and politicians - do these have some special significance for you?
SG: Absolutely! The names of our shoe models are not accidental. They reflect our philosophy and our style. Our culture comes from what we like. They are characters that have influenced our era and in their own field (arts, literature, music, etc.) were people that imposed their own strong personality, their own style. They were people who didn't follow trends but instead created them, and were not afraid to assert themselves as unique figures, endowed with genius. It is based on their character and their personal qualities that they have become models for everyone. 
DI: Why did you decide to use Goodyear construction when many Italian shoes are made using the Blake method?
SG: From the beginning our idea was to make a shoe in classic style with a different character, that besides being beautiful would also be of very high quality, without compromises. We didn't want to be just "ITALIAN." We carry our Italian-ness always and in everything we do, in whatever we think and design. So we didn't make any problems for ourselves. Our style is the result of many influences and different cultures, so our collection presents some British elements, but also American. We don't worry too much about bringing in many influences. What matters is that it's coherent with the mood that we have in our heads and that we have created in the collection. 
And for what we wanted to do, Goodyear was the most suitable method. But there are also many ways to make a Goodyear shoe. For example, we like lasts that are more tapered and harmonious, so our shoes have a welt that is as inconspicuous as possible and a last that's neither too pointy nor too blobby. Then there are some models that need other techniques. Our Del Dongo and Lermontov boots, for example, are made using Blake construction. We tried them with Goodyear but we wanted a svelter and more streamlined last, more tight to the foot, to give a little bit more of a "piratical" touch. So we ended up using Blake.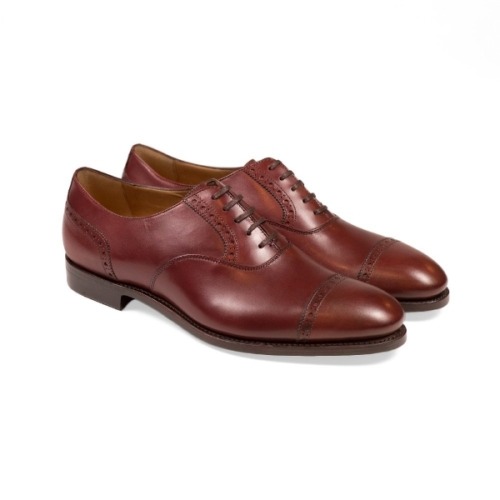 DI: What are the difficulties in conceiving a line of shoes that's so varied? Is the design process for the various types of shoes you make very different? 
SG: Our collection is varied, as you say, from the classic Oxford to military styles. But this reflects exactly our mood and our concept of style. For us to design both an Oxford and a more modern boot is something natural because both things make up part of our taste. They are two different shoes but there is something, a coherent style, that ties them together. Because to us, a stylish man can wear a bespoke suit one day and the next day hop on a motorcycle with the same natural ease. One day perhaps it's a fancy dinner, the next day a rockabilly concert. That's real style, to be free and flexible. It's a bit the way of the pirate ("Barbanera" means Blackbeard, like the pirate). 
What counts is truth and culture. I'll explain: if a man dresses in a certain way but does not have that particular culture on his shoulders, it's just fake. We believe style isn't about what you have, but what you know. If you dress like a biker and then don't even know how to ride a motorcycle, it's ridiculous. And an attentive eye picks that up. One could say the same thing about the "dandy" style, a word which many people seem to like today. A real dandy knows art, literature. Just putting on a jacket doesn't make you a dandy. You need coherence and understanding. Starting from these things, it is natural to design and produce diverse styles that possess the same soul.  
DI: When did your passion for shoes begin? When did you first think of starting your own shoe brand?
SG:The four of us have always had a great passion for a certain style, certain artisanal products, a certain concept of beauty. We have always been shoe-lovers and since we were little we were taught that shoes are fundamental to style. It's the thing that most characterizes someone's dress. Our motto is "a well dressed man with ugly shoes is nothing but a man with ugly shoes." When thought of that phrase, I had in mind what my grandmother told me when I was little: "the best way to spend money is on buying nice shoes." When Filippo and Sebastiano began to talk about this Barbanera project, it was from the beginning about the shoes. But without wanting to be presumptuous and with due respect to everyone, we see ourselves a bit as a bit different from most of today's classic shoemakers. We never put limits on ourselves, and we haven't ruled out that our great passion for shoes could grow into a larger collection of clothing and accessories that would maintain our philosophy and vision.


DI: What has surprised you the most since opening Barbanera? 
SG: A few things: first of all, how important taste is. That is, certain things are natural for some people and for others require a huge effort. For example, there are amazing artisans who do amazing work that still produce shoes in poor taste. 
Another thing that has surprised me is to see that many people, even with the means to do it, don't really have a great understanding of certain things and spend a huge amount of money on ugly and low-quality products. Many people try to exploit this and make money on myths. Then there are people who spend more time posting pictures of their possessions on Instagram than exploring their own interests. But culture and truth will always win out in the end!
Photo: No Man Main Man Greg Lellouche with Sergio at this summer's Eidos presentation